UPDATE: I just heard a reporter on MSNBC telling a story related to him by a victim's father. He said he was wounded, shot in the leg, fell on the ground and got trampled. Said his kid saw a report on TV which showed a picture of the alleged shooter and he claimed he saw him that night at the bar drinking. So this guy who hates gays is at the bar, wearing a vest and carrying an AR-15 and drinking at the bar with gays? What?
UPDATE: Only 4 people named as victims of the shooting. Not much is known about any of them.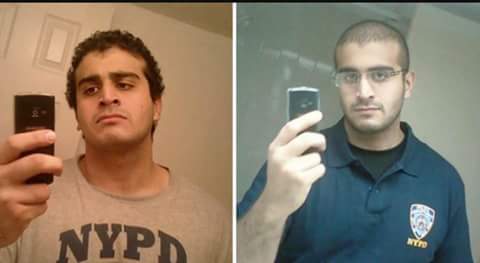 UPDATE: Suspect, Omar Mateen, worked for private global security company, G4S for the past 9 years or so. You mean to tell me this guy who liked to wear NYPD shirts, who's father was a wannabe big wig in Afghanistan and who worked for one of the largest for-profit security companies in the world, just "went off" and decided to kill gay people because he saw a couple kissing a few months back and then dedicated himself to "ISIS"? Is that really the fucking story? Really?
Oh wait… he had been investigated by the FBI twice since 2013 for supposedly making "terrorist sounding threats"… and yet he was still working for G4S? bullshit…
https://willyloman.wordpress.com/2016/06/12/pulse-mass-casualty-event-why-is-there-a-whole-parade-of-victims-walking-back-toward-shooting-scene/
Related:
The shooting event in Orlando on June 12th demonstrated features that were present in numerous recent terrorist acts. For example the suspect was quickly killed and the official account immediately attempted to blame the attacks on Islam. However, as with most terrorism in the U.S., the suspect Omar Mateen had suspicious links to the FBI. He also worked for a company with suspicious links to prior terrorist events.
Like many of the suspects in recent terrorist events, Mateen was well known to the FBI. In fact the Bureau had interviewed him several times and had evaluated his potential for terrorism on at least three occasions. This fact is noteworthy considering that both before 9/11, and since then, FBI leaders appear to have facilitated many terrorist acts.
Although U.S. authorities claim that Mateen pledged allegiance to ISIS "in the midst of the attack," Mateen's family were surprised at the claim that he had any connection to a radical terrorist group. In fact, they said he was not particularly religious…
http://www.washingtonsblog.com/2016/06/orlando_g4s.html