A decade ago, on March 19, 2003, President George W. Bush launched the invasion of Iraq that would lead to a nine-year war resulting in 4,486 dead American troops, 32,226 service members wounded, and over 100,000 dead Iraqi civilians. The tab for the war topped $3 trillion. Bush did succeed in removing Saddam Hussein, but it turned out there were no weapons of mass destruction and no significant operational ties between Saddam's regime and Al Qaeda. That is, the two main assertions used by Bush and his crew to justify the war were not true. Three years after the war began, Michael Isikoff, then an investigative reporter for Newsweek (he's since moved to NBC News), and I published Hubris: The Inside Story of Spin, Scandal, and the Selling of the Iraq War, a behind-the-scenes account of how Bush, Vice President Dick Cheney, and their lieutenants deployed false claims, iffy intelligence, and unsupported hyperbole to win popular backing for the invasion.
Our book—hailed by the New York Times as "the most comprehensive account of the White House's political machinations"—was the first cut at an important topic: how a president had swindled the nation into war with a deliberate effort to hype the threat. The book is now the basis for an MSNBC documentary of the same name that marks the 10th anniversary of the Iraq war. Hosted by Rachel Maddow, the film premieres Monday night in her usual time slot (9PM ET/PT). But the documentary goes beyond what Isikoff and I covered in Hubris, presenting new scoops and showing that the complete story of the selling of that war has yet to be told…
http://www.motherjones.com/politics/2013/02/hubris-rachel-maddow-documentary-iraq-war-david-corn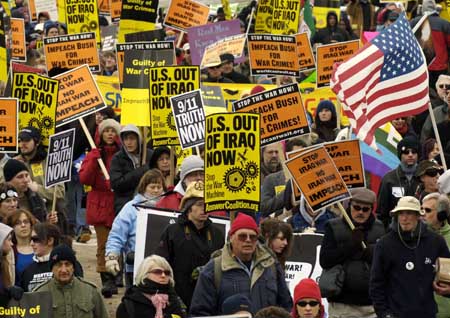 Hubris indeed.  There was little popular support for the war.  There were massive demonstrations against the war, perhaps the largest in history.  Such support as there was was largely among the political class sprinkled with the usual jingoistic no-nothings.  Maybe in 10 years MSNBC will have an expose on Libya, and the lie that Gaddafi was killing his own people, something that Obama, Gaddafi's accuser, has admittedly done.   Why hasn't the corporate media pointed out this hypocrisy?  Of course, the answer is that they ARE the corporate media.